Welcome to
St Bede's Youth Group
Set up in January 2018 the Group aim to involve, empower and explore the opportunities for all Youth to live as disciples in the world today, to be actively involved in the mission of the Church, foster Spiritual growth and....just to get together and have fun!
Our Team
The Youth Committee currently includes;
Diane Allender (Coordinator)
Millie, Enya and Patrick.
To get involved with our Youth group please contact Diane by clicking
on the link below
ST BEDE'S YOUTH CLUB
Held quarterly in the Parish Rooms.
Open to all children Year 6 - Year 11
The date of the next meeting to be advised.
May Youth Club
Fun, games and being social was very much the recipe for a successful Youth Club this month. Also under discussion was the possibility of a Youth visit to Whitby.
Watch this space for more information!
Many thanks to Niamh Melton from CAFOD who visited the Youth Club at their April meeting and, besides sharing her experiences of working in Uganda, also gave the group the opportunity to try out traditional Ugandan costume.
March Youth Club
A huge thank you to Rory McArdle, professional footballer for Scunthorpe United, for generously giving up his time to attend the youth club as guest speaker. Rory spoke about training, the football world, career paths, team unity and Christianity in his world as a footballer.
Thanks also to Millie and Lee for designing this fabulous new logo for the Youth Club.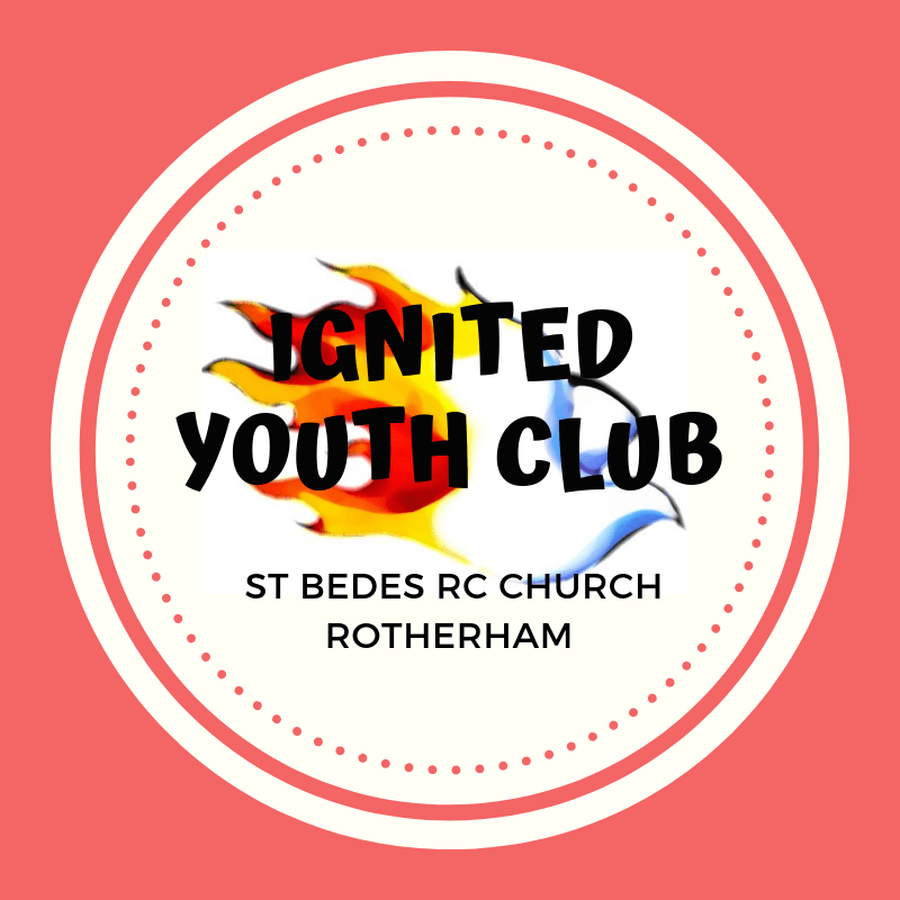 Youth Unity Group
On the 6th February St Bede's hosted a Youth Unity meeting with Connor, Sam and Colleen representing Liberty Church Rotherham and Swinton; representing Herringthorpe United Reformed Church was Nic Blackmore, Youth and Families Worker, and from St Francis', Bramley, was Youth Worker, Dan Fall.
Top of the agenda was a discussion on the ways in which a Christian Youth presence in Rotherham might be developed and in particular the possibility of a group coming together in All Saints Square in December for Carol Singing. Look out for more updates throughout the year.
At the February Youth Club the invited guest speaker Rory McArdle, professional footballer with Scunthorpe United, was unfortunately unable to attend due to illness.
Instead the group enjoyed a 'movie night'!
Rory has promised to visit the Youth Club when it next meets on March 7th.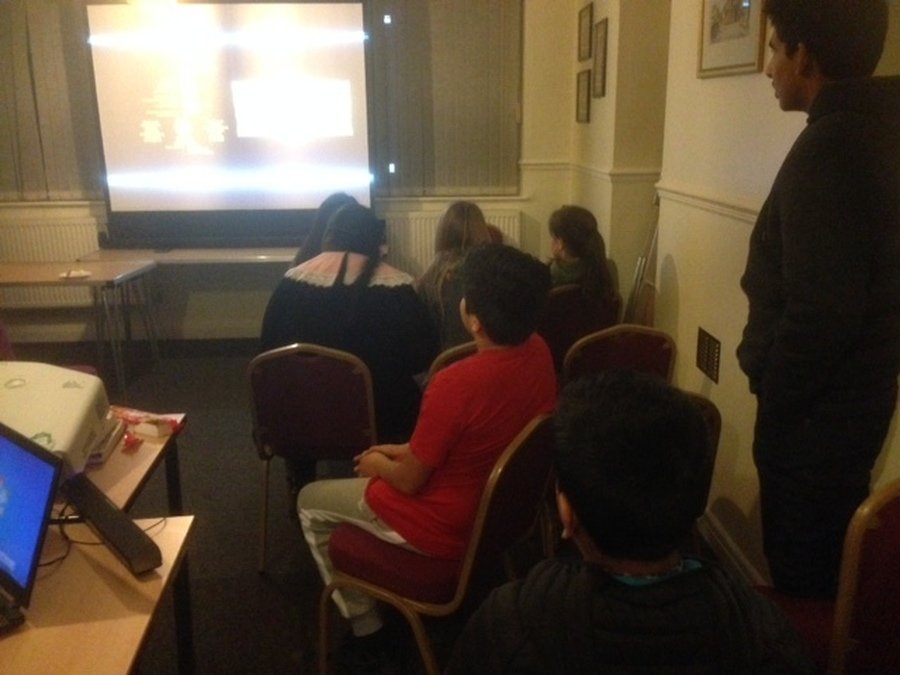 Thank you to Millie for cooking supper at the December Youth Club.
A 'Chapati Masterclass' at the November Youth Club. Many thanks to Mary Jeevan for sharing her expertise and delicious food!
In October the Youth Club strengthened their links with the local community
with a visit to a neighbouring Youth Club at Liberty Church.
......... before returning back to base at St Bede's.
Thank you to our youth guest speaker Phil Parkin, one of our parishioners, talking to the group about his experience of WW2, Anderson Shelters and being a morse code operator.
The Youth Club Picnic
A great afternoon of games and food in Clifton Park, when our youth were joined by their families and Fr John - looking very cool and relaxed in his Panama hat and showing off some sporting skills to boot!
One of the aims of the Youth Club is to empower our youth by not shying away from real life issues and so the guest speaker at the the Youth Club on the 5th July was a former alcoholic, who has gone through rehabilitation, and now shares his experiences in order to educate young people. In a child appropriate manner he explained that alcoholism is a disease, how his way of living led him to reject his family and friends and he urged anyone who might be affected not to be afraid to seek help.
Making Cards at Rother View Residential
First Aid Training at the Youth Club,
with thanks to the St John's Ambulance Volunteers who came along to share their knowledge.
Youth Club visit to Shiloh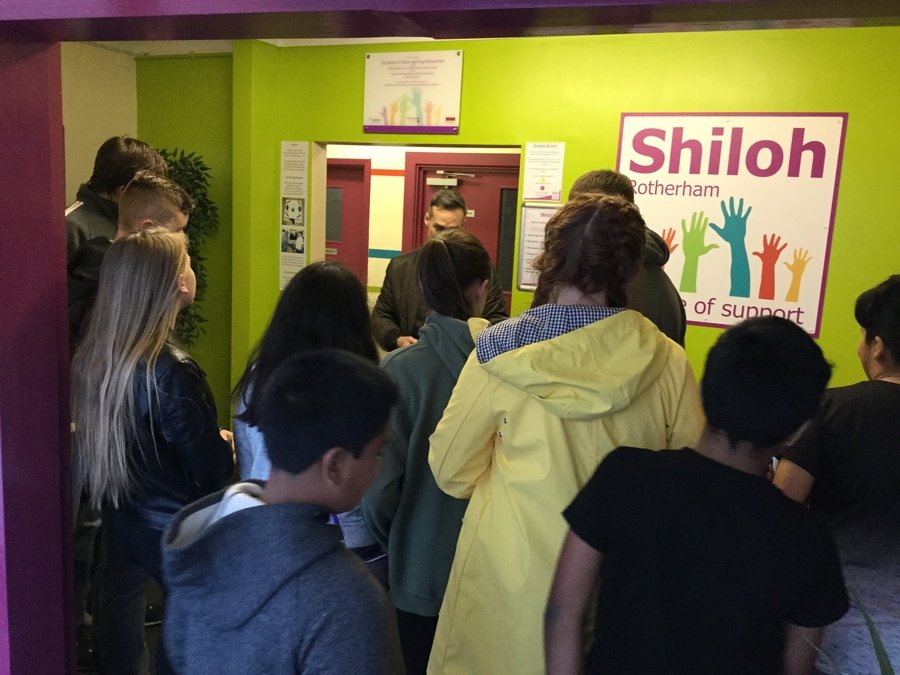 Some images from the first meeting of the Youth Club.
Why not come along next time on Thursday 5th July at 7.00pm?
Serving pancakes in the Parish Rooms on Shrove Tuesday
Sunday Morning baking at Rother View Residential Home
Youth Visits to Rother View Residential Home.