MUSIC AT ST BEDE'S
Lent & Easter
Usually, this time of year would be our busiest time as we prepare for the great Liturgies of Lent and Holy week, culminating with the joyful celebrations of the Easter Vigil and Easter morning.
This will be the strangest Easter! Not just being in lockdown, but also unable to celebrate these Liturgies together and not seeing each other so often in church (as well as all the extra last minute rehearsals for everything we haven't covered and those usual pieces that still aren't going as well as we hoped!!)
Below are some links to some of the music we would usually sing during Lent and the Triduum as well as some other choral classics
The Triduum
The Three Holy Days
Holy Saturday - The Easter Vigil
Liturgy of the Word
The Seventh Reading: Ezekiel 36:16-28: 'I shall pour clean water over you, and I shall give a new heart'
Psalm 41: Sicut Cervus
As a deer longs for the flowing streams,
so longs my soul for thee, O God.
Litany of the Saints
Pray for us
Vidi Aquam
I saw water flowing from the Temple, from its right-hand side, alleluia; and all to whom this water came were saved and shall say: Alleluia, alleluia.
Dextera Domini
The right hand of the Lord has made virtue, The right hand of the Lord has raised me up.
I shall not die, but live, and shall tell the works of the Lord.
Thine be the glory, risen conquering Son,
Endless is the vict'ry, thou o'er death hast won.
Good Friday
We adore you, O Christ, and we bless you. For by your holy Cross you redeemed the world.
Lord, have mercy on us.
Popule meus, quid feci tibi?
My people, what have I done to you? How have I offended you? Answer me!
I led you out of Egypt, from slavery to freedom, but you led your Saviour to the cross.
Holy is God! Holy and strong!
Holy immortal One, have mercy on us.
Were you there when they crucified my Lord?
Parce mihi Domine
Spare me, O Lord, for my days are nothing.
What is a man that thou shouldst magnify him?
Maundy Thursday
Maundy or "The Mandate" - of the new commandment to love one another just as I have loved you.
Ubi caritas et amor, Deus ibi est.
Where charity and love are, God is there.
Ave Verum Corpus
Hail true body, born of the Virgin Mary, Truly suffering, was sacrificed on the cross for mankind, From whose pierced side flowed blood. Be for us a foretaste in the final judgement. O sweet, O merciful, O Jesus, Son of Mary, Have mercy on me. Amen
Sing my tongue, the Saviours glory
Choir Rehearsals
As our normal Thursday Rehearsals are suspended for the foreseeable future - a global pandemic is still no excuse not to be practicing!! (you know what I'm like!) - in fact, all this extra time at home is the perfect opportunity! And when we're back to normal, we'll have to make up for missed time with a big celebration.

I hope you have your files to be going through things, but below are some links for general practice;
ST BEDE'S PARISH CHOIR

The Choir sings at every 9.30 Mass on Sundays as well as Holy days and the major liturgical celebrations of the Church.
Rehearsals take place every Thursday from 7.00 – 8.30pm.

Singers Wanted!!!

The choir is always looking for new members of all ages to join and would be keen to hear
from anyone that is interested.
You do not have to be able to read music or have any previous musical experience to join. If
you enjoy singing and are interested in learning something new, then why not give it a try.
Please speak to any member of the choir if you would like to be involved.

St Augustine: "He who sings, prays twice".
The choir currently has around 16 members and sings a varied repertoire of music.
We now also have a Junior Choir that occasionally sings at the 9.30 Sunday Mass. This is made up of students from St Bede's Primary School, who rehearse on Monday's after the school day.
Contact
If you have any enquiries with regards to music at St Bede's please contact Paul Brennan, Organist & Choirmaster: Contact
THE ORGAN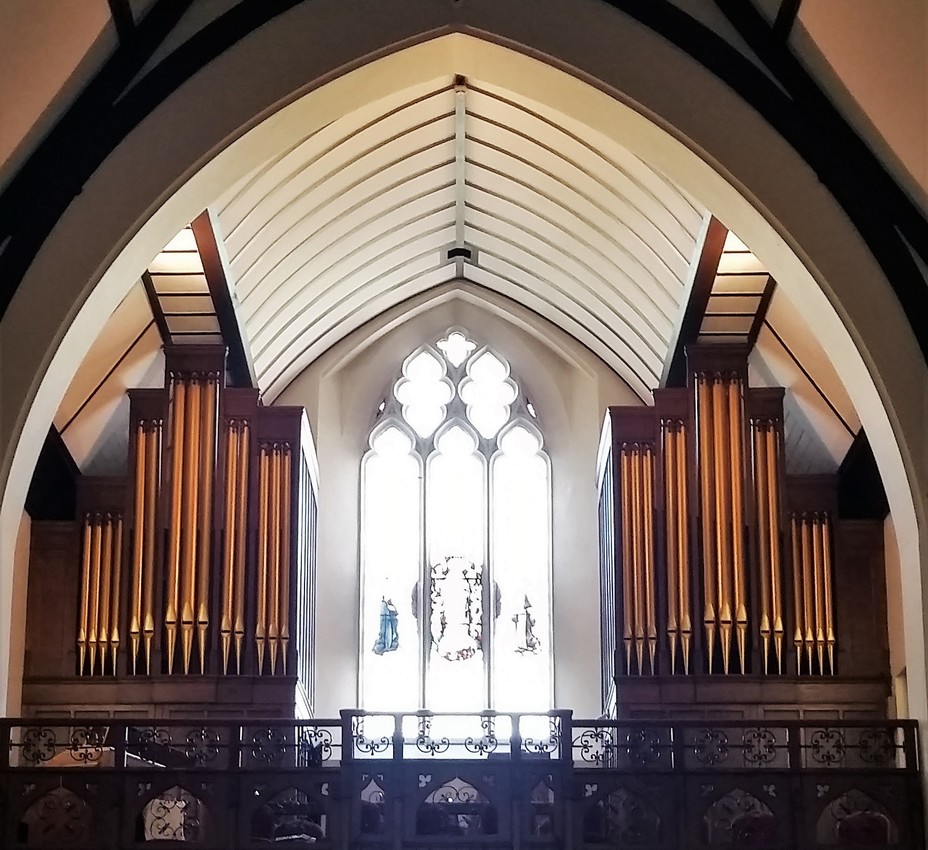 The William Hill & Son and Norman & Beard Pipe Organ is located in the gallery at the back of the
church. The organ was moved from St Pauls Church, Great Yarmouth in 1993/94 by Aistrup
& Hind church organ builders who maintained the organ until 2015 . The origins of the
organ date as far back as 1907 and, after being rebuilt in the early 1950's, the opening recital was
performed by Reginald Foort (the BBC Theatre organist).
PIPE ORGAN RESTORATION
The restoration of the Organ has now been completed after a 10 month project.
Please see below for details and pictures of the project and the end result.